People like Darnell…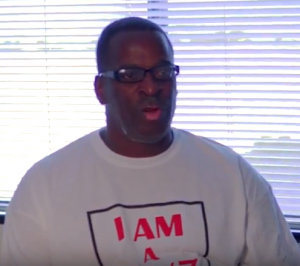 When we met him, Darnell was a 59 year old man who spent more than half of his life in prison for various offenses, never able to stay out of jail for longer than a year, he was disconnected from his children, himself, and the community around him.
After his first introduction with our Fatherhood / 24/7 Dads program Darnell began to understand that if he could change his decisions, behavior and way of thinking, he could change it all. He immediately began rebuilding his relationships with his adult children…and even his grandchildren. It can be very difficult to come to terms with the reality that some of the bad decisions you have made not only hurt you but your children as well but Darnell rolled up his sleeves and got to work righting every wrong that he could, mending fences, and reconciling with his family and his past.
Today, Darnell has remained out of the criminal justice system for nearly four years and he is excited about the second chance he has in life. He's moved into his very own FIRST apartment, purchased a vehicle that has helped him find better employment, and recently found out that he has qualified for low-income housing.
Darnell looks forward to his new future as he continues on this journey making a great impact on his family and his future in positive ways with positive decisions.
And while Darnell continues to attend the fatherhood program, it is now as a mentor where he is assisting many of the men that attend the fatherhood program.
He continues to remind everyone, "It is never too late to change, and if I can do it, you can too."