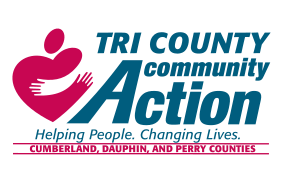 FOR IMMEDIATE RELEASE
June 19, 2020
Contact: Danielle Krebs
717-232-9757, ext. 101                                                       
dkrebs@cactricounty.org
Tri County Community Action Acquires Family Center in Perry County
(New Bloomfield) - On July 1, 2020, the Perry County Family Center will become a program of Tri County Community Action (TCCA). TCCA began working with the Family Center's Board of Directors and staff in April 2019, after the Family Center became involved in some significant organizational challenges.
Perry County Family Center Board President Kristie Carl-Gantt states, "Due to an unfortunate set of circumstances, the Perry County Family Center faced some challenges and had to go through some changes. Facing closure, we began seeking out alternatives to ensure that the essential services that the Center provided could continue. Thankfully, Tri County Community Action stepped up to be a support and ultimately became the reason the Family Center could continue to remain open."
Carl-Gantt continues, "During this yearlong transition, the Family Center staff was unwavering in their desires to continue to provide quality care to their children and families. They deserve a tremendous amount of credit as they have endured months of uncertainty while continuing to engage their clientele. The Board of the Perry County Family Center is thankful that the Family Center's vital services will continue and it appreciates all the hard work that has been done by both the staff of the former Perry County Family Center and the staff at Tri County Community Action."
With support and guidance from local and state officials, TCCA has taken the steps necessary to ensure that these vital family programs continue to be available for the residents of Perry County. TCCA has been able to retain the staff members from the former Perry County Family Center and will continue to provide programs such as the Parents as Teachers home visitation program, parenting education and workshops, Safe Kids car seat distribution, and more.
The Family Center provides support for expecting moms and/or parents and caregivers for children up to the age of kindergarten. The programming is aimed at ensuring children are school-ready and that developmental milestones are being met. Children who show delays are connected with community resources to meet their needs and families are able to participate in group connections which bring them closer with each other and their community.
Like the former Perry County Family Center, TCCA provides all of these services at no cost to the families, and there is no income limitation to enroll.
In addition to the Family Center programming, TCCA will continue to provide Perry County residents with additional resources like financial literacy education, self-sufficiency case management, information and referral assistance, and PPL's OnTrack and Operation HELP programs.
"While the challenges faced by the Perry County Family Center are unfortunate, I'm thankful that Tri County Community Action has been able to help preserve these programs for Perry County families, and I'm excited for the opportunity to bring more programming and services to the County", said TCCA Executive Director Jennifer Wintermyer.
The Perry County Family Center officially closed its doors on June 17th and will reopen in July as Tri County Community Action's Family Center. Currently, enrolled families will see some paperwork changes, but will receive the same ongoing services from the Parent Educator they currently work with.
Wintermyer says, "We will be holding an Open House in early August and can't wait to introduce you to us all."
For more information on TCCA, their programs, and when to expect the Open House, visit cactricounty.org.
About Tri County Community Action:
Tri County Community Action, part of America's Poverty Fighting Network, has been helping people and changing lives throughout Cumberland, Dauphin, and Perry Counties since 1966. As a private, nonprofit, social service agency we create and connect resources for individuals and families to move from poverty and crisis situations to self-sufficiency.