Tri County Community Action has been at the forefront of the fight against poverty since our inception in 1966. Born from President Lyndon Johnson's War on Poverty and the Economic Opportunity Act of 1964, we are a private, nonprofit, anti-poverty planning agency serving the communities of Cumberland, Dauphin, and Perry Counties.
Our Mission and Purpose
Our mission is clear, and our purpose unwavering:
Understanding Poverty: We diligently study poverty in Cumberland, Dauphin, and Perry Counties to identify its root causes.
Crafting Effective Strategies: We develop innovative strategies to combat poverty and reduce its impact on our communities.
Community Involvement: Meaningful engagement with neighborhood representatives and community stakeholders is integral to our approach.
Resource Facilitation: We work tirelessly to facilitate the delivery of essential services and resources to those who need them most.
Adaptation and Evaluation: In our pursuit of progress, we constantly evaluate our programs and adapt them to address evolving needs.
Community Awareness: We inform our community about the challenges posed by poverty, fostering a deeper understanding of these issues.
Coordination of Funds: We serve as a vital coordinating mechanism for the allocation of funds required to operate services essential to this mission.
Tri County Community Action: Empowering Change
In January 2014, we rebranded as Tri County Community Action, a name that better reflects our commitment to serving the three counties. Our mission remains unchanged: to empower individuals, stabilize families, and revitalize communities to eliminate poverty through self-sufficiency and empowerment.
Our Comprehensive Approach
Today, we offer a wide array of programs and services to drive individual, family, and neighborhood success. From budgeting and financial literacy education to more specialized offerings such as child development, case management, and neighborhood revitalization, we're dedicated to supporting families, strengthening communities, and eradicating poverty.
---
Our National Goals
As an integral part of the National Community Action Network, we are dedicated to advancing these three vital goals:
Goal 1: Ensuring that low-income individuals and families achieve stability and economic security.
Goal 2: Creating healthy and economically secure communities where people with low incomes reside.
Goal 3: Empowering people with low incomes to actively engage in building opportunities within their communities.
Join us in our mission to break the cycle of poverty, empower lives, and build thriving communities. Together, we can make a lasting impact.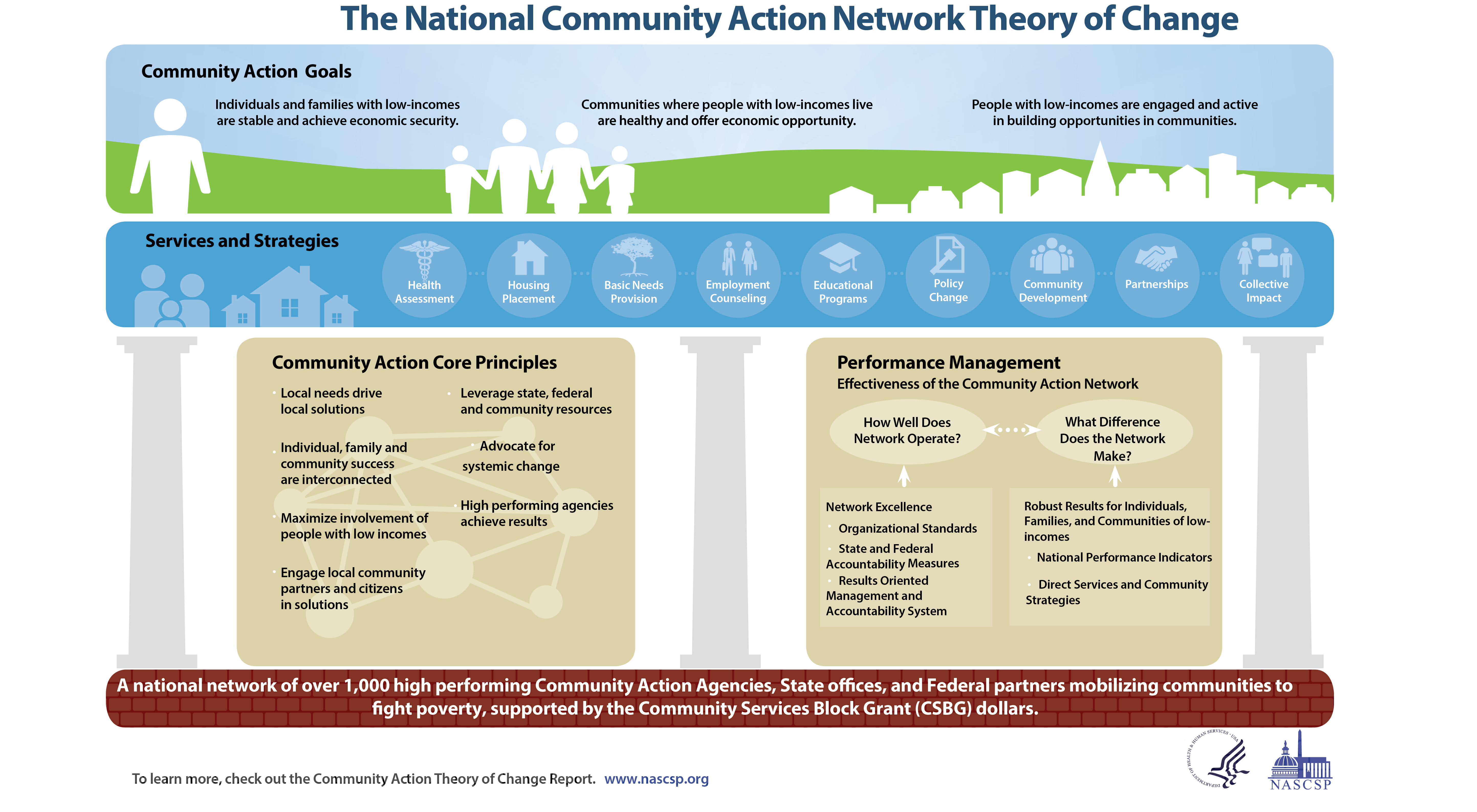 View our Local Theory of Change and discover the pillars of intervention that will create strong families and thriving communities in the tri-county region.
---
Want to learn more about the Community Action network? Please visit these links!