A direct result of President Lyndon Johnson's War on Poverty and the Economic Opportunity Act of 1964, the Community Action Commission was incorporated on April 12, 1966, as a private, nonprofit, anti-poverty planning agency serving Cumberland, Dauphin, and Perry Counties. Our purpose is to:
Study poverty in Cumberland, Dauphin, and Perry Counties.
Form strategies to reduce the causes of poverty.
Involve meaningfully, neighborhood representatives and others in the resolution of community needs.
Facilitate the delivery of services and resources.
Evaluate programs and change them as conditions warrant new approaches.
Inform the community of problems of poverty.
Act as the coordinating mechanism to receive and distribute funds necessary for the operation of the many services logistically allied to this effort.
In January 2014, we began doing business as Tri County Community Action in order to better reflect our three-county service area; Cumberland, Dauphin, and Perry Counties, while also reinforcing Community Action's promise to change people's lives and improve communities.
We use a results-oriented and outcome-focused approach to promote self-sufficiency, family stability, and community revitalization to eradicate poverty, through empowerment and helping people help themselves.  
Today, we offer a comprehensive approach to individual, family, and neighborhood success through a myriad of programming - budgeting, parenting, and financial literacy education, to more enhanced supportive services such as child development, case management, and neighborhood revitalization - all in an effort to support families, strengthen communities, and eliminate poverty.
---
As part of the national Community Action Network, we work towards these 3 national goals:
Goal 1 - Individuals and families with low incomes are stable and achieve economic security.
Goal 2 – Communities, where people with low incomes live, are healthy, and offer economic security.
Goal 3 – People with low incomes are engaged and active in building opportunities in communities.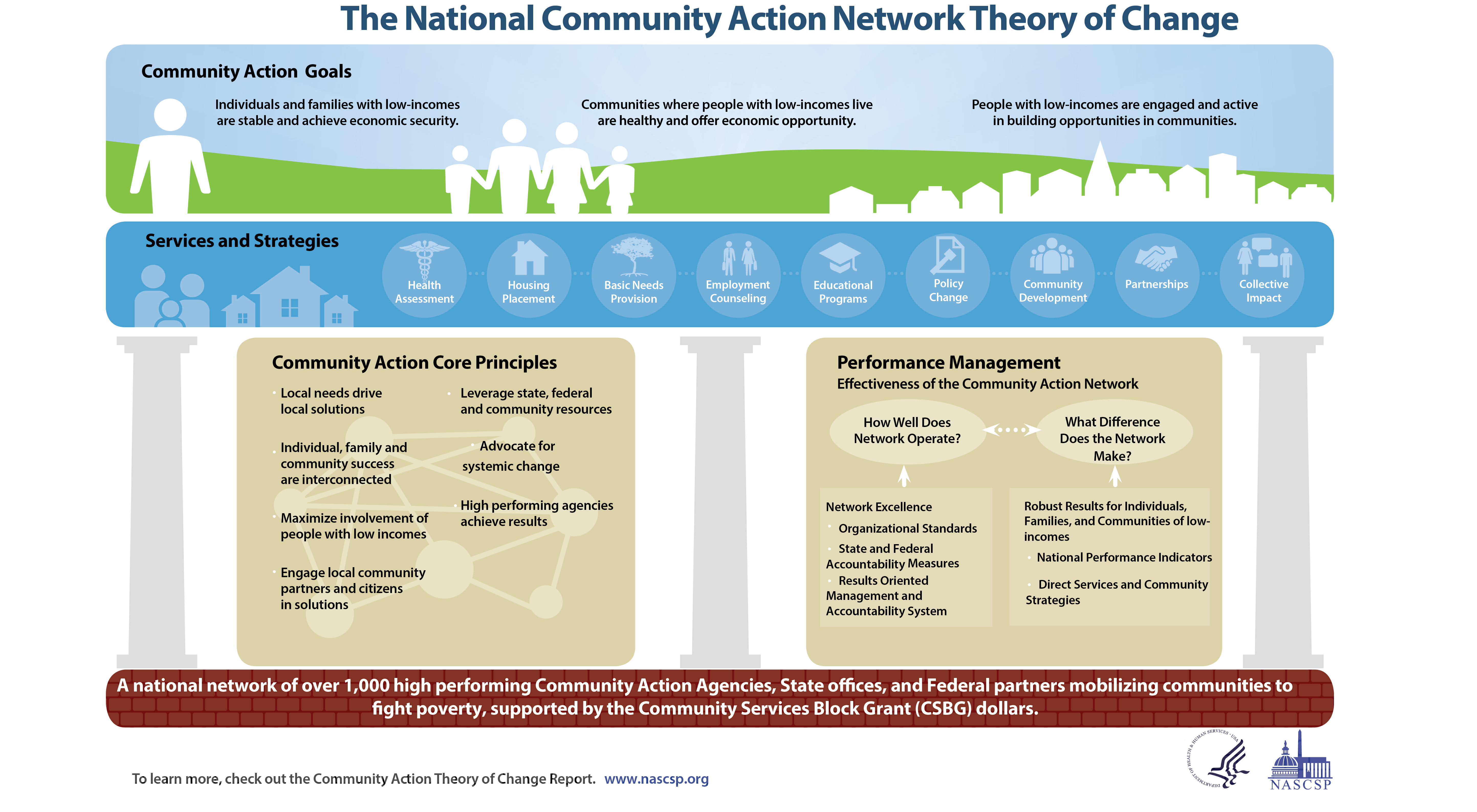 View our Local Theory of Change and discover the pillars of intervention that will create strong families and thriving communities in the tri-county region.
---
Want to learn more about the Community Action network? Please visit these links!