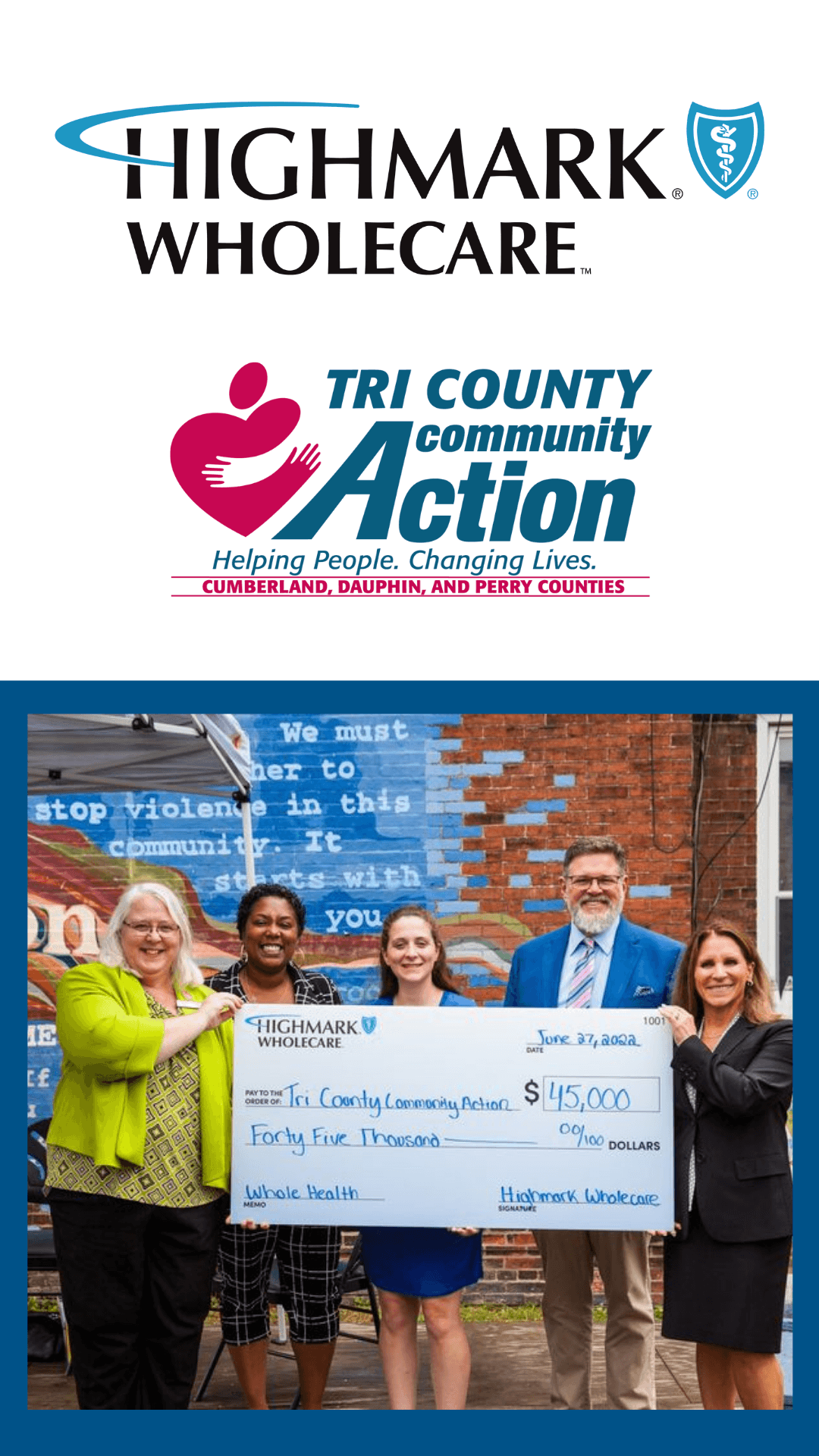 For immediate Release
Contact:              John Pepper, Highmark Wholecare
                              (412) 951-1533
                              Danielle Krebs, Tri County Community Action
                              (717) 232-9757 x 101
---
Studies show that factors like food, shelter and transportation security can have a significant impact on a person's health; managed care organization increases its community engagement to coordinate healthcare that goes beyond doctors and medicine
HARRISBURG, PA (June 27, 2022) – Leaders from Highmark Wholecare (formerly Gateway Health), a managed care organization serving more than 365,000 Medicaid and dual-eligible Medicare members in Pennsylvania, joined with area nonprofits today at Tri County Community Action (TCCA) to present more than $300,000 in 'whole health' grants that will immediately support the communities' most pressing needs. The donations will be distributed amongst seven Central Pennsylvania nonprofits that will use the funds to connect more vulnerable seniors and low-income populations to resources like fresh food, childcare and housing.
"COVID has shone a light on health equity," said Ellen Duffield, President and CEO of Highmark Wholecare. "Seniors ages 65-74 who are socio-economically disadvantaged were 500% more likely than Medicare-only beneficiaries to be hospitalized due to COVID-19 during the height of the pandemic, according to data from the Centers of Medicare & Medicaid Services. Some of the most vulnerable populations are not only going to the doctor for the first time since the pandemic, but are more socio-economically disadvantaged than they were pre-pandemic."
Before the check presentation, Highmark Wholecare and nonprofit leaders met to discuss the increased socio-economic challenges faced by residents as summer approaches with record inflation. On average, lower-income households spend more than 75% of their income on necessities, which saw faster price increases in 2021 than less essential items, according to Lael Brainard, a governor of the Federal Reserve.
The host location for the event, Tri County Community Action, has been helping people and changing lives throughout Cumberland, Dauphin, and Perry Counties for more than 50 years. The organization offers a comprehensive approach to individual, family and neighborhood success, providing a myriad of programming and initiatives – all in an effort to create strong families and thriving communities.
- more -
"COVID-19 has presented long stressful days at home for many families with children, depleting the emotional energy that parents need to fully engage with their children," said Jennifer Wintermyer, Tri County Community Action Executive Director. "As a result, we have received an increase in referrals to our early childhood and family development services over the past two years. These programs focus on family support, parenting skill development, child development and school readiness during early childhood. With this funding, we can extend our work with families to create a better future for all. We are grateful to Highmark Wholecare for their support, and their commitment to ending poverty."
The $300,000 in grants will be distributed amongst the following local nonprofits: :
Berks Community Action Program
Community Action Committee
Community Action Partnership of Lancaster
Community Progress Council
New Hope Ministries
South Central Community Action Partnership
Tri County Community Action
The funding award is part of a larger Highmark Wholecare gift of $500,000 distributed among charities that support vulnerable communities throughout Pennsylvania.
"More than ever, we must collaborate with our nonprofit partners to translate the needs that our neighbors are facing so that we can work together to shepherd the resources that are essential to care for a person's 'whole health,'" Duffield added.
Highmark Wholecare serves thousands in the communities where the grant investments will be used.  Their Social Determinants of Health (SDoH) initiatives give members dedicated support to help them take care of their most basic needs – food, shelter and transportation – so that physical health can be achieved. In addition, the initiatives include job placement, financial literacy, nutritional counseling and more to address root causes of poverty.
Highmark Wholecare recently held free vaccination and 'whole health' events in Harrisburg and Reading. This summer, the Highmark Wholecare Mobile tour and the United Concordia Dental pediatric dental tour will visit numerous locations throughout the state. Highmark Wholecare has provided healthcare to Pennsylvania's most vulnerable populations since 1992.
###
About Highmark Wholecare
We believe in caring for the whole person in all communities where the need is greatest. We see a future in which everyone has equal opportunity to achieve their best health. Through our leading Medicaid and Medicare programs, we are coordinating healthcare that goes beyond doctors and medicine that helps members achieve not just physical health, but also delivers whole person care. Our associates are helping to drive this new kind of healthcare in collaboration with a network of 29,000 primary care physicians, specialists, hospitals, and other ancillary providers. We are also committed to supporting our neighbors through our many community outreach and engagement programs.
About Tri County Community Action
Tri County Community Action, part of America's Poverty Fighting Network, has been helping people and changing lives throughout Cumberland, Dauphin, and Perry Counties for over 50 years as a private, nonprofit, community development agency. Offering a comprehensive approach to individual, family, and neighborhood success, Tri County Community Action provides a myriad of programming – budgeting, parenting, and financial literacy education, as well as enhanced supportive services, such as child development, case management, and community revitalization – all in an effort to support families, strengthen communities and eliminate poverty throughout the Capital Region.