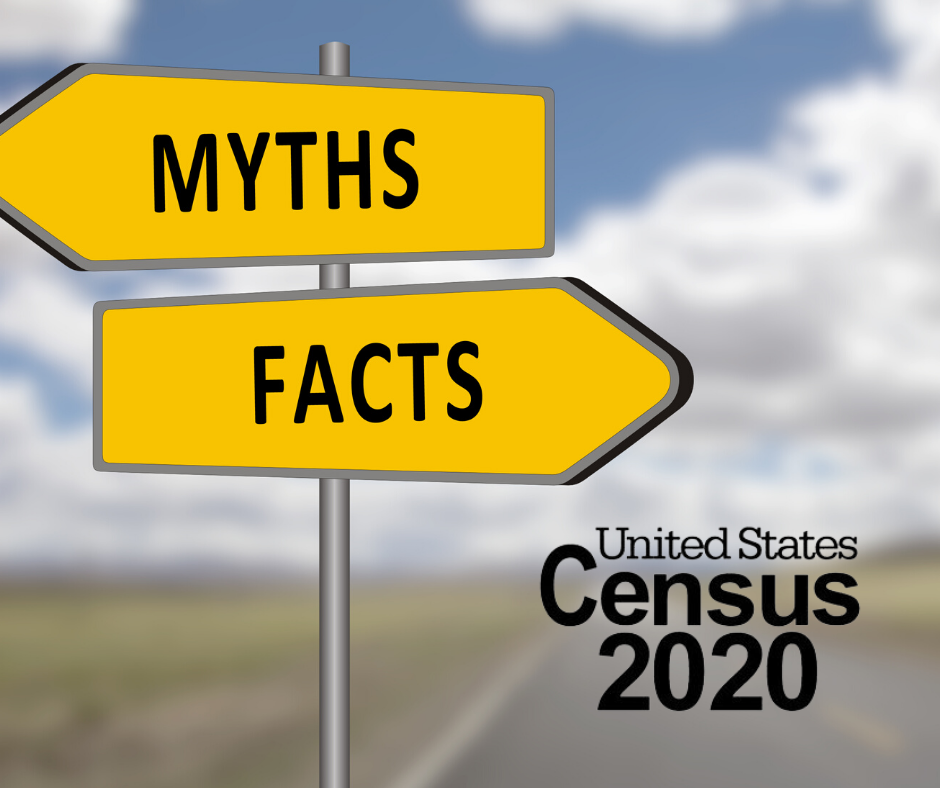 Every 10 years the United States conducts the Census, authorized by the Constitution. The goal of the Census is to gain an accurate count of our entire population. This is the only time everyone in the United States is counted until the next Census. The Census counts everyone living in the United States regardless of age, housing situation, or citizenship status.

Because there is a lot of misinformation on the internet, we decided to compile a list of Myths vs Facts to provide you with accurate information and to ensure that you feel comfortable and safe completing the 2020 Census.
There are many different ways to complete the census: by mail, by phone, in person, or online.
Fact. Households will receive a letter in the mail beginning in March with instructions on how to complete the Census online. Census Day is April 1st; however, you can complete the Census anytime between March 12th and July 24th. What is important to remember is who is in your house on April 1st.
Only US Citizens can participate in the census.
Myth. Regardless of your citizenship status, if your primary residence for the majority of the calendar year is in the United States, then you must participate in the Census.
My responses can be used against me.
Myth. All responses from the Census are confidential and protected by federal law. Census Bureau staff take a lifetime oath to protect the personal information collected.
Completing the Census is safe.
Fact. The Census will be collecting basic information about the people living in your household. Do not respond if you are asked for your social security number (SSN), bank or credit card information, or for money or donations. The U.S. Census Bureau will never ask for this information. If someone claiming to be from the U.S. Census Bureau contacts you via email, phone, or in-person and asks for any of this information it is a scam. If you're visited by a Census worker, ask to see their identification. They should have an official identification badge with their photo, U.S. Department of Commerce watermark, and an expiration date. If you have questions about their identity, you can call 1-800-923-8282 to speak with a local U.S. Census Bureau representative.
I should count my children in the census.
Fact. EVERYONE COUNTS. It is a known fact that children remain one of the most undercounted groups in the Census. As a general rule of thumb, remember –EVERYONE COUNTS. Count anyone living in your home on April 1st. This includes grandchildren, foster children, or a newborn baby (even if you are still in the hospital with your newborn on April 1st).
The census doesn't affect me, so it doesn't matter if I take it.
Myth. EVERYONE COUNTS, and for good reason. The Census is required by the Constitution, and it matters more than you may think. Here are a few examples of how the data received from the census matters:
Redistricting: State officials use the results to redraw the boundaries of their congressional and state legislative districts, adapting to population shifts.
Representation: the data is used to reapportion the House of Representatives, determining how many seats each state gets.
Federal Spending & Programs: more specifically, $675 billion. This money will be distributed among the Country. The information from the census determines where that money is spent supporting your state, county, and your community's vital programs. This federal funding can be spent on roads and infrastructure, public safety, and hospitals.

Federal funding for state programs is around $2,000 per year for 10 years per person counted in the Census. Meaning, that missing just 100 people in our area could mean missing out on $200,000 per year, or $20 million over 10 years!
Sources:
Common Wealth of PA (2020). 2020 Census. Retrieved from https://www.pa.gov/census/privacy-security
Sutherland, J. (2020, January 13). Debunking the Myths of the 2020 Census. Retrieved from http://ucsdguardian.org/2020/01/03/debunking-the-myths-of-the-2020-census