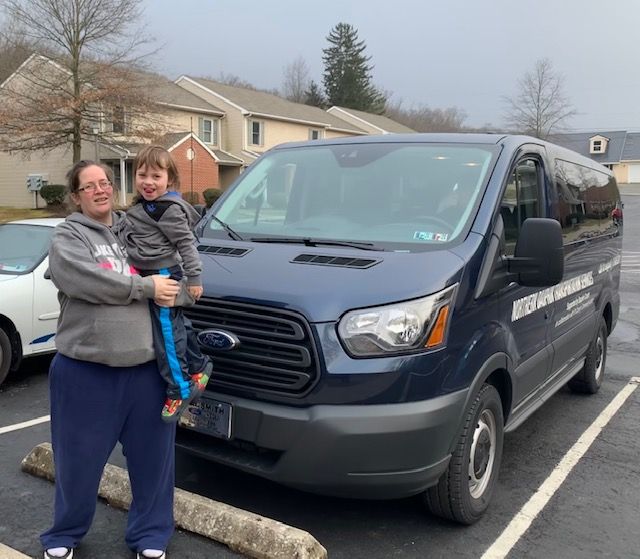 Since Northern Dauphin County Human Services and Tri County Community Action partnered to provide transportation to its residents, 18 families have registered. The Northern Dauphin Transportation Service (NDTS) provides individuals with transportation for non-emergency medical appointments, access to food, and employment.
Meet Brandy!
Brandy and her family have been using the NDTS since the service was first offered last summer. Brandy's family consists of her boyfriend, two sons (ages three and four), and she is expecting her third child.
Brandy is working on obtaining her driver's license, but their only car has mechanical issues. Not only does this make it hard for Brandy to get her license, but it is even harder for her family to get from place to place. Brandy is working with a program in Harrisburg to help with her mechanical issues. She is working to move to a more self-sufficient form of transportation. Until then, Brandy and her family have to rely on other means.
The only other transportation service in the area is for those with disabilities and those 60 and older. Because of the lack of transportation services, Brandy has had to reschedule many doctor appointments to the point they refused to see her. She has since not only found NDTS but also a new doctor that better understands her situation.
Brandy, like others, utilizes this service to get to places like the local food bank, WIC office, medical appointments, and Walmart for groceries. She mentioned the NDTS makes it easy for families. NDTS lets her bring her children so she doesn't need to rely on finding childcare. Instead, she can bring car seats and her sons along for the ride.
We look forward to continuing to help people like Brandy and families like hers who rely on the NDTS to obtain their basic needs. If you're interested in using the NDTS contact Michelle Liggett at 717-905-2011, or NDvan@cactricounty.org.
Volunteer drivers are a crucial need. To learn how you can help people and change lives read the blog: Volunteers Needed in Northern Dauphin County